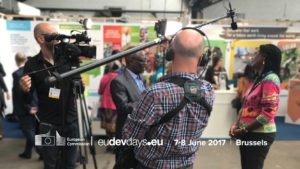 On the 7th and 8th June 2017, INS mobilized its talents to support the pan-African television channel "Africa LabelTV & Radio Group" in the coverage of the "European Development Days".
An ambitious project brought LabelTV journalists from Libreville, Abidjan and Yaoude to our facilities here in Brussels to collect footages for « AfriqueEurope », the new TV magazine focussing on relations between the European Union and emerging Africa.
The DEVDAYS was a huge opportunity to meet with Heads of State, European officials, young entrepreneurs, "Lorenzo Natali" Prize-winning journalists, industrialists, agricultural producers … who are building success stories in their daily life to enrich relations between our two continents.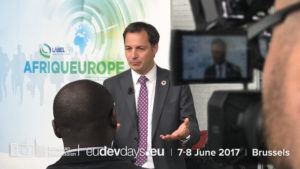 Two days, during which we collaborated to make several reports, 66 interviews, 3 multi-camera TV studios… In total more than 60 hours of images were recorded. The best of our know-how was brought together to kick off this project with Robert Adande, Alex Momha and Georges Aboké. A team of 19 people (journalists, producers, ENG crews…) met 8,000 participants.